————————————————————————————–
————————————————————————————-
ROBERT ALOU

Robert Alou is a mythical individual and can be heard on Renegade Radio mornings..  Robert is seen here at a an oldies dance at Silver Springs High School along with daughter, Isabel.
Some facts about Robert Alou:
BORN IN: Southern California
HIGH SCHOOL: Nevada Union, Grass Valley, California
COLLEGE: BA and MS: California State Univ, Sacramento.
PhD: International Seminary, Orlando, Florida.
FAVORITE Saying: "That's the way it is."
FAVORITE FOOD: Sliced cucumbers on saltines.
WEIRD FACTS ABOUT ROBERT: Robert Alou did not exist until November of 2002. His name is derived from the 1947 hit song by Desi Arnaz entitled "Bobalu". Robert was persuaded to move to Reno by  acquaintance, Jim McClain.
ROLE MODEL: About 6 feet, wide of shoulder, narrow of hip, steel blue eyes, somewhat muscular.
FAVORITE MOVIES: Sound of Music (and most musicals).
FAVORITE RESTAURANT: Amy's Kitchen.
FAVORITE COLORS: Sky Blue and Tan.
FAVORITE GAME: The real game of life.
FAVORITE ACTOR: Tris Coffin
CHURCH: St Columba Orthodox in Fernley.
FAVORITE ICE CREAM: Lemon Custard.
BOOK CURRENTLY READING: Peasant Russia (The Family and Work Community in Post Emancipation Russia) by Warobec.
The Secret Past of Robert Alou
————————————————————————————–
THE RENEGADE WEATHER PROPHET 
The Renegade Weather Prophet is religiously industrious and makes certain that listeners are aware of future weather events via his prophecies.
Other radio stations have a meteorologist or forecaster; Renegade Radio has a prophet.
————————————————————————————–
JACKSON FONG
Jackson spins the CDs Sunday morning.
FACTS ABOUT Jackson Fong:
BORN IN: Hollywood, California.
HIGH SCHOOL: Alhambra High School / Los Angeles County High School for the Arts.
COLLEGE: Cal-State Los Angeles, Liberty University, Bethel Seminary, Southern California Seminary and Summit Bible College.
FAVORITE SAYING: It's Alright, It's All good.
FAVORITE FOOD: Chocolate, Sweet Tea.
WEIRD FACTS ABOUT Jackson: "He makes Jesus 'Ghetto' … but not in a bad way." – See Jackson's Students for specifics., if he had spent another two years in college, he would have had 10 degrees.
ROLE MODEL: Dr. Billy Graham, Gregory Robert Owyang, Dwayne Carson and Dr David Allison
FAVORITE MOVIES: Action Movies, Mysteries and Comedies – Though Saving Private Ryan and the original Star Wars trilogy as well as Lord of the Rings hold a Sweet Spot for me.
FAVORITE RESTAURANT: Chic-Fill-A, Arbys, Chipotle and Jamba Juice.
FAVORITE COLORS: Blue and Brown (obviously influenced by nature in Nevada).
FAVORITE GAME: Uno, Monopoly and "Sardenes"
FAVORITE ACTORS: Mel Gibson, Tom Cruse.
FAVORITE ICE CREAM: Chocolate Malted Crunch, Tin Roof Sunday.
BOOK CURRENTLY READING: "Be the Change", by Zach Hunter, and "Next Generation Leader" by Andy Stanley.
————————————————————————————–
NOTORIOUS V.I.C.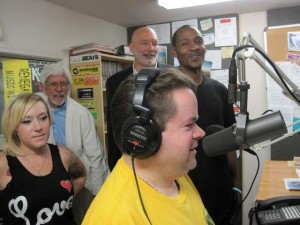 The Notorious V.I.C. has been with Renegade Radio since before it signed on the air on July 4, 1997. Prior to that Vic worked for (KODS) "Oldies 104" in Reno, Nevada. Vic has the ear for the sound and picks the music on 101.3.
Some Facts About the Notorious V.I.C.:
BORN IN Sierra Madre, California.
HIGH SCHOOL: Shamrock in Decatur, Georgia.
FAVORITE BANDS: DC Talk, Jars Of Clay, Tait, Disciple, Third Day, Cademon's Call, The Benjamin Gate, Lifehouse, Take Six, Radial Angel, Bleach, Skillet, Johnny Q Public, The Echoing Green, Seven Day Jesus, Luna Halo, Atomic Opera, Trinitee 5-7, Dawkins and Dawkins, Out Of Eden,
Guardian, Stryper and Petra.
FAVORITE ARTISTS: Plumb, Jennifer Knapp, Rebecca Saint James, Rachael Lampa, Pete Stewart, Jeremy Camp, John Reuben, Phil Keaggy, Toby Mac and Kevin Max.
FAVORITE SAYING: "Do unto others as you would have them do unto you."
FAVORITE FOODS: Pizza, Italian food, burgers, Mexican food and Seafood.
WEIRD FACTS ABOUT VIC: I snore loudly while I sleep.
ROLE MODELS: Pope John Paul II, Mother Theresa of Calcutta, former President Ronald Reagan, President George W Bush and my mother.
FAVORITE SPORTS: Swimming and Snow Skiing.
FAVORITE MOVIES: Brave Heart, A Few Good Men, As Good As It Gets, Air Plane, Animal House, Young Frankenstein, Blazing Sadelss, City Of Angels and Silence Of The Lambns
FAVORITE RESTAURANTS: Athens Pizza, it's a place in Atlanta Georgia where I used to eat. The Wildwood Restaurant at the Gold Dust West Casino in Reno, In-and-Out Burger and Tarentino's seafood restaurant in San Francisco.
FAVORITE ACTORS: Mel Gibson, Tom Hanks, Nicholas Cage, Bruce Willis, Robin Williams, Steve Martin, Jack Nickelson, Michael Douglas, John Travolta, Bill Murray, Anthony Hopkins, Eddie Murphy, Billy Crystal, Glen Close, Julia Roberts and Meg Ryan.
FAVORITE ICE CREAM: Vanilla
BOOKS CURRENTLY READING: The Bible and the Catechism Of The Catholic Church. I'm reading them online.
HOW I SEE MYSELF IN 5 YEARS: Hopefully making more money, and raising a family with a good Roman Catholic wife.
————————————————————————————–
TOC & CANDY RADIO SHOW.
MARITAL BLISS AND HIP HOP TOO !

SUNDAY evenings, Hip Hop artist Toc Roc; 600 PM to MIDNIGHT. Listen if you have ears to hear.
The Lord has given me a heart and passion for the lost and forgotten. A desire to see lost youth delivered into new life through Jesus Christ. Before knowing Christ as "the way, the truth, and the life" (John 14:6), I was spiritually dead and desperate for change. I wasn't really an approachable person, but a faithful Christ follower came up to me and shared with me the Good News. That day, I accepted Jesus Christ as my Savior and into my life. I believe that the Lord has a destiny for each and every one of His children. Don't be afraid to leap wholeheartedly into His divine plan and calling for your life! Sometimes, ministering to troubled teens is intimidating, but seeing them change through the love of Christ exemplified in me is truly amazing. I continue to share the Gospel so that the lost can be found, saved and redeemed just as I was.
Our mission is to reach any one in our community and teach them about God. Our kids are constantly being exposed to secular music where it teaches them to bring chaos and destruction in their lives. Why not speak life into them. Why not give them music where they will be filled with the Good News. People love music. Holy Hip Hop is an alternative to the secular version. instead of death, there can be life.
—————————————————————–
BRYCE LEINAN 
Bryce is currently serving as the IT Manager and a member of the Board of Directors of the Sierra Nevada Christian Music Association, which simply means that if Bryce wasn't around to keep the electrons in check, there would be no music playing on Renegade.
Bryce is also on the staff at Harvest Family Fellowship as Director of Information Technology and Media Training and is involved as a volunteer with the Coast Guard Auxiliary. In his extra time he works 40+ hours a week making sure that the computers at the Nevada Department of Employment, Training and Rehabilitation are accurate.
He graduated from the University of Nevada in 2011 and subsequently earned a couple of Masters Degrees in his spare time.
You can contact Bryce by e-mailing him.  "bryce.leinan@gmail.com"
——————————————————————————–
GENERAL MANAGER FR. KARRY 
The Boss (aka Fr. Karry Crites) was told by the Newsboys that the reason no one showed up for the Newsboys concert in Reno was because there was no radio station in town that played their music. Hey! no problem … all we need to do is start up a radio station (no one told him at first that radio stations can cost millions of dollars and have constant operating costs).
Nonetheless, Fr. Karry was inspired to start Renegade Radio. In the daytime he is a hospice chaplain and also provides grief support for youth and adults. He is pastor of a church in north Reno called "Little Church in the Valley."
Some interesting facts about Fr. Crites:
FAVORITE TYPES OF MUSIC: All types but Hard Rock is my favorite.
FAVORITE BAND: Stryper.
FAVORITE FOODS: BBQ, Seafood, and Greens.
WEIRD FACTS ABOUT ME: Prior to becoming a minister I was a commercial roofer.
ROLE MODELS: Jesus, St. Paul, My parents, and grandparents.
FAVORITE SPORTS: Baseball, Football.
FAVORITE HOBBIES: Gardening, Fishing, soon to be taking up Beekeeping (a family tradition)
FAVORITE TEAMS: SF Giants, Oakland A's, St. Louis Cardinals.
FAVORITE MOVIES, The Passion of the Christ, Up, Lord of the Rings, Patton.
FAVORITE COLOR: Blue.
FAVORITE ICE CREAM: Chocolate with Peanut Butter.
HOW I SEE MYSELF IN 5 YEARS: Following God wherever He leads.
————————————————————————————–
AMY THE PRAYER POSSE LEADER – and prayer warrior 
Renegade Radio is here to give you hope. If you need someone to pray for you or your intention, give Renegade Radio a call or an email.
As in all true stories in the West, there is a posse. Amy has been sworn in as the leader of the the Renegade Prayer Posse.
She can round up over a dozen (that's 12) … people who will pray for you or your intention. All you do is contact Renegade Radio and let your need be known. Amy rounds up the posse … God does the rest.
Some Facts About Amy:
BORN IN: Flushing, New York
HIGH SCHOOL: General MacArthur, Levittown, New York
FAVORITE BANDS: Stryper, MXPX.
FAVORITE ARTISTS: Michael Card, Randy Stonehill, Larry Norman.
FAVORITE SAYING: You reap what you sow.
FAVORITE FOODS: Macintosh Apples, Almonds.
FAVORITE TEAM: Sharks.
FAVORITE ATHLETE: Children and Grandchildren.
FAVORITE MOVIE: The Long, Long Trailer.
FAVORITE RESTAURANT: Guadalajara.
FAVORITE COLOR: Blue.
FAVORITE GAMES: Yahtzee.
FAVORITE ACTOR: James Stewart.
FAVORITE ICE: Frozen Juice.
CD IN CAR NOW: Phil Driscoll.
CURRENT BOOK: Tightwad Gazette II.
HOW I SEE MYSELF IN 5 YEARS: Wherever God Leads Me.
——————————————————————————————